The World of Smuggled Rose
Smuggled Rose
Published by: Cerridwen Press, Cotillion Line (release date: 5/3/2007)
A cynical earl and a rose smuggler are an unlikely pair. Particularly when the smuggler is a woman the earl owes for saving his feckless brother's life...
Research
Some of the research I did for Smuggled Rose came out of my love for antique roses and my experience as a newsletter editor for the Wilmington Cape Fear Rose Society. I never had any success with modern roses and after killing hundreds-of-dollars worth of modern Hybrid Teas, I decided to do some research and see if I couldn't find some hardier roses which wouldn't immediately die. What an amazing journey into the past this lead to!
Amongst all the information and books I collected, I discovered the incredible importance of Malmaison and the Empress Josephine to the development of roses, and the following tidbits which lead directly to: Smuggled Rose.
The Napoleonic Wars and Malmaison
In 1799, Napoleon and Josephine acquired the Château de Malmaison, and during the following years, Josephine nearly went into debt developing the rose gardens. She was so enthusiastic that in a single year, she spent almost £2,600 on plants from the Vineyard Nursery, run by Kennedy and Lee at Hammersmith (just west of London).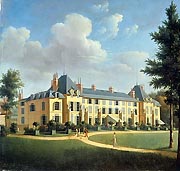 One would think that trade—at least official trade—would cease between England and France during the Napoleonic wars, and for the most part it did. Except for one small, fragile commodity: roses. During the height of the war, the British and French admiralties actually agreed to make arrangements in 1810 for the safe passage of the new China Rose, Rosa indica Fragans, known as 'Hume's Blush Tea-scented China', from England to Malmaison. Nurseryman John Kennedy got a special passport to take this rose, and several other plants, to the Empress Josephine at Malmaison. In 1811, her bill for deliveries from the Vineyard Nursery was close to £700—a great deal of money for that time.
As a result, the gardens at Malmaison were considered to be some of the finest in France and held one of the largest collection of roses for that period. It was so well known and had so many unique rose varieties, that guards were hired to patrol the garden at night after thieves had begun digging up and stealing some of the roses. The Empress Josephine's extensive collection formed the basis for one of the greatest monographs on roses, Les Roses, written by Claude-Antoine Thory and illustrated by the famous Redouté. This is still one of the most valuable of all rose books and owes much to the enthusiasm of the Empress Josephine for the lovely rose, although, sadly, it wasn't published until after her death.
Armed with this information, it was but a short step to speculate: hmmm, if folks were stealing roses from Malmaison, wouldn't it be interesting if they smuggled them back into England to covetous collectors there who could not obtain them any other way? My heroine, Margaret Lane, struggling to make ends meet and already an outcast from Society, engages in a little smuggling and her love of roses makes it natural that she would be smuggling those, as well. And so my novel, Smuggled Rose was born.
Although it is difficult to find good source material about Malmaison, there are a few tidbits in some of the following books. These are my favorite books about roses and if you are interested in roses, and especially Old Garden roses, then I highly recommend them. David Austin's new English roses are particularly "garden-worthy" for they bring the best qualities from the old roses to modern gardens.
And another good book is: The Quest for the Rose
If you are interested in not just reading about roses, but actually growing them, then I can heartily recommend the following two sources for roses.
Sources for Roses
Roses Unlimited
http://www.rosesunlimitedownroot.com/
Mailing Address:
Roses Unlimited

363 N. Deerwood Dr.

Laurens, SC 29360

Phone : (864) 682-7673

E-Mail : rosesunlmt@aol.com

Chamblee's Rose Nursery

Mailing Address:

Chamblee's Rose Nursery

10926 U.S. Highway 69 North

Tyler, TX 75706-8742

Phone: (800) 256-ROSE

E-Mail: Roses@ChambleeRoses.com
Margaret's Music: Beethoven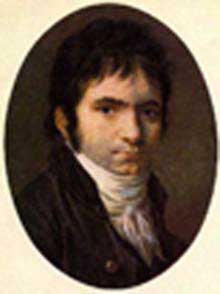 Having played piano in my youth, I always wanted to master Beethoven's Moonlight Sonata. I never did, so Margaret Lane, my heroine in Smuggled Rose did so in my stead. The Moonlight Sonata, or to be more precise, Sonata in C sharp minor, op. 27, no. 2, was composed in 1801 and published in 1802, although it was never called The Moonlight Sonata until 1831 when Ludwig Rellstab, a poet, named it that.
Sonata in C sharp minor, op. 27, no.2, has three parts:
1. Adagio Sostenuto - which creates a graceful, reflective mood
2. Allegretto - a shorter section serving as a connection between the two parts
3. Presto Agitato - a very long, tempestuous section
Margaret's favorite piece, however, is Beethoven's Sonata in F minor op. 57, entitled Appassionata. This work was composed in 1804. Like the Moonlight Sonata, the Appassionata has three parts and some music critics believe one of the themes in this Sonata was the concept of a fierce struggle with the forces of nature, leading to man's ultimate victory.
Sonata in F minor, op 57, has three parts:
1. Allegro Assai - this work starts with two contrasting themes: revolt and the unraveling of dark forces into fierce battle, contrasted with a calm, tranquil theme.
2. Andante con moto - attacca - This section brings warmth, kindness and intimacy into play, and is Margaret's favorite section, reflecting her desire for love and a family--things she thinks she can never have. If you listen by clicking on the link: Andante con moto, you can almost hear Margaret's own story in the music as man and woman court, marry, have children and ultimately grow old together in rich harmony. This link will play parts 2 and 3.
3. Allegro, ma non troppo - Presto - The final section repeats the second but with more complexity and a faster pace.
Michael Peyton, Earl of Ramsgate
The hero of Smuggled Rose, Michael Peyton, might have been a jock (though not a dumb jock) if he was born today, and I was inspired to create him after reading about sportsmen and athletes from the Regency era. During the Regency, gentlemen who were interested in sports were often referred to as The Fancy. They rubbed shoulders with athletes, gamblers, and other sportsmen, and the wealthier frequently sponsored and befriended particularly gifted athletes--so you would often find the wealthy and poor mingling almost as equals during sporting events and training sessions. In fact, gentlemen would hire famous athletes to help them with their own physical training, so The Fancy were more than just idle spectators. They participated--at least privately--in the sports they promoted.
Although books about the activities of gentlemen, and particularly about The Fancy are hard to find, I do recommend the fascinating account of Captain Barclay, a famous pedestrian. The Celebrated Captain Barclay by Peter Radford is a fabulous story and reads like a work of fiction--I could not put it down once I started it.
The sport of pedestrianism--or walking great distances--has today been "subsumed" into Iron Man contests and is more generally referred to as "long distance walking or running". During the Regency period, it was a recognized and very popular sport. Captain Robert Barclay is perhaps the most famous athlete to engage in pedestrianism, and for a bet, he walked "a thousand miles in a thousand hours for a thousand guineas." He is by no means the only man or woman to engage in long distance walking for a bet--there were many before and after him who accomplished amazing things.
When Captain Barclay made his bet, huge crowds came out to watch the spectacle and it was enormously popular. On the last day of the "thousand hours," Wednesday, July 12, 1808, Newmarket Heath was filled with members of the press including London Chronicle, The St. James's Chronicle, and The Times, vendors, gamblers, and spectators from all strata of Society from kitchen maids to the Duke of Argyle, the Duke of St. Albans, Earl Grosvenor, Earl Besborough, the Earl of Jersey, and Lord Somerville. They all turned out to watch Captain Barclay complete the bet. At the time, Captain Barclay was just shy of his 30th birthday and stood nearly 6 feet tall (5'11"). To the sounds of loud cheering, Captain Barclay won the bet at 3:37pm, a full 23 minutes before the deadline.
This feat was considered one of the greatest sporting challenges ever undertaken.