More Regency Rose Favorites
This article goes through a few Regency rose gardening techniques as well as listing some specific rose varieties which were popular. The gardening techniques were not only popular in the Regency, but are still in use even today.
Pruning, Training and Bedding
Keep in mind that we are not dealing with Hybrid Tea roses when we talk about Regency roses, so pruning roses was vastly different in that period than it is now, when we are trying to force reblooming. Pruning of old roses was done with the following objects in mind:
Prune upon transplanting, so that you don't kill the plant. If there is excessive top material (branches and leaves) the disturbed roots will not be able to support it, and the rose will die.
Always prune out dead branches, or branches that cross others and cause injury to the canes.
To produce a symmetrical bush, you can trim down to two bud-eyes on the cane. These eyes will sprout and you can then trim down the new canes to two bud-eyes, and so on, until you obtain a nice, symmetrical shape.
Prune summer-blooming (once blooming) roses immediately after blooming (similar to how we treat azaleas today). This is generally mid to late summer.
Favored Shapes
Roses were often shaped as follows:
Pillars - where a two 1.5 or 2" square posts or trellis work of iron rods was driven into the ground near the rose. The rose was planted between the posts. As leading shoots appear, they are trained spirally around the outside of the pillar. If properly trimmed, the entire pillar will be a mass of bloom.
Pyramid - where you create a pyramid (like a Tepee frame, really) out of a central post and iron rods. The rose is trained over and through the pyramid.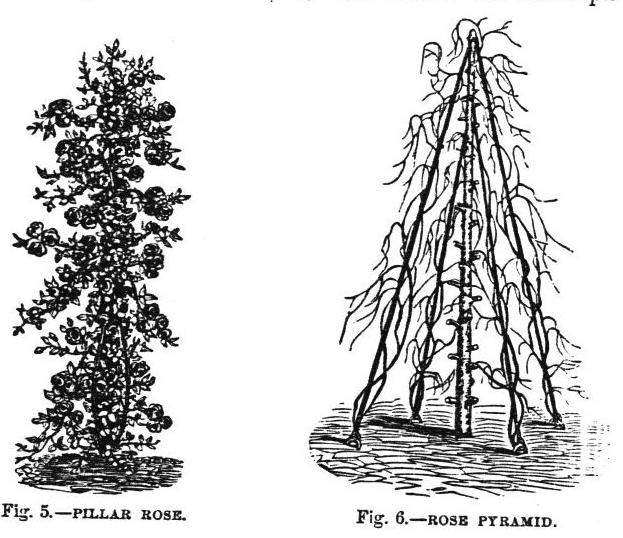 Arbors - these are actually more rectangular - not curved arches. They are often created and maintained in a similar fashion as pillar roses, because they are trained up the pillars and then overhead in festoons from one pillar to another.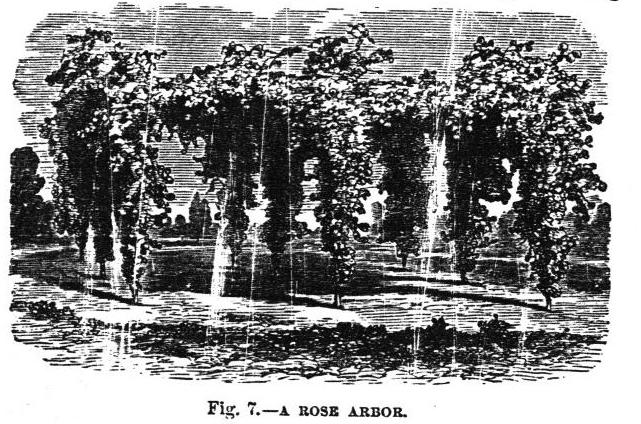 Pegging - this is a wonderful technique if you have the space. Many of the older roses have very flexible canes. As the long canes are thrown up, they are bent back down until they are nearly horizontal with the ground. Small stakes (10 or 12" high) are used to anchor the canes. When a rose is pegged in this fashion, rather like a starfish, it will have blooms all along the canes. The display can be enormous and spectacular when you think that a rose with even six foot canes can then cover a circle 12' in diameter.
Bedding roses - many gardeners considered China roses to be "bedding" roses since without protection they would die in the winter. They would be purchased and planted along with Verbenas and Salvias, and could be expected to bloom all summer.
Popular Regency Varieties -
White Roses (Alba class)
Alba Semi-plena, a summer rose (once blooming) with a rich rose fragrance. Flowers are formed in large clusters. The bloom is white and semi-double with lovely golden stamens. It will sucker and can reach up to 6' tall. Other names: Rosa alba semi-plena, 'Great Double White', 'Jacobite Rose'. Ancient.
Celestial, a summer rose with a very strong, sweet fragrance. Very tall shrub (6') with large red prickles. Gorgeous semi-double blossoms in clear pink, with a lovely boss of yellow stamens. This rose should NOT be pruned too hard, and only when she finishes blooming in mid-summer. Introduced in 1759.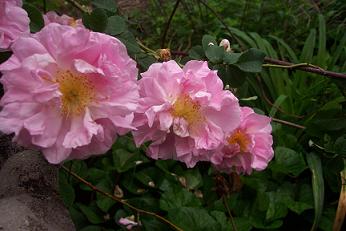 Damask
Celsiana, a summer rose with a rich, strong Damask rose fragrance. My total favorite. The blossoms are semi-double in clear pink with petals that look like soft silk. The fragrance is so strong that during blooming, you can smell it across the yard. Never has any diseases. This rose has one of the longest blooming periods of all the old roses and is wonderful planted in a bed of bearded irises in shades of yellow and apricot, or the cool shades of purple. Introduced in 1732.
French Roses (Gallica class)
Bizarre Triomphant, a summer rose (once blooming) with a slight rose fragrance. This rose is a compact shrub, 3' tall, that is nearly devoid of prickles. The flowers are fully doubled and when open, quartered with a green eye in the middle. They are a rich, deep wine-red that ages to purple. Other names: 'Charles de Mills'. Introduced before 1790.
'Agathe Incarnata', a summer rose up to 4' tall. Clusters of buds open to pale pink blossoms which are double and quartered with quilled petals. Introduced prior to 1815.
'Berenice', a summer rose up to 5' tall, but tends to be lax. Very large blooms in rich reddish-purple. Introduced by Vibert in France in 1818.
'Henri Foucquier', a summer rose up to about 4' tall with nearly thornless canes. The large, round blossoms are fully double in a rich pink which fades to a lilac-pink. Introduced in 1811.
Noisette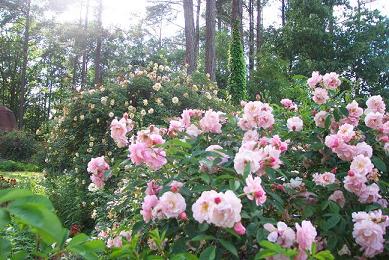 Blush Noisette, REBLOOMING! Lovely tall shrub 6' tall with pale blush pink flowers held in huge clusters of up to 30 blossoms. The Small blossoms open to a pale lilac-pink and age to white. May be used as a pillar rose. Fruity, peppery scent. Introduced by the Noisette brothers, Phillip and Louis, in Paris, after they received the original from John Champneys in the United States. Introduced in 1817.
Portland
Duchess of Portland, REBLOOMING! Small shrub reaching 3' tall with a nice rose fragrance mixed with pear. This is a wonderful variety for the front of the border as it stays small. The rich red buds are produced in clusters and open to semi-double flowers in a lovely red. Does require good care, however. This shrub is guessed to be named for Margaret Bentinck, the second Duchess of Portland. It is further speculated that it was discovered in her garden sometime around 1782.
Species
Chestnut Rose - reblooms sporadically. Introduced to Europe from Guangzhou, China around 1820 or so. The buds and hips look like European horse chestnuts and are covered with spikes like burrs. Very vigorous grower--may reach up to 8 feet tall. The foliage is remarkable as the individual leaves are composed of 7-15 leaflets which make the plant look like a giant fern. The blossoms are a gorgeous deep pink , and are fully double with quilled petals (the petals curl into almost a tube) alternating with flat petals. Slight rosy fragrance. Can be dated to 1814, although I believe it was more common after 1820.
Austrian Copper - a summer rose with fetid fragrance (rotting meat). Very large (8' tall) shrub, prone to blackspot. The blooms are single (5 petals) and are crimson orange. The back of the petals is yellow. This was not a particularly popular rose because of the smell and the fact that it could not be worked into the color scheme of most rose gardens, which ranged from white, through pink to mauve, wine red, and purple. Introduced in Austria in 1590.
Rosa Multiflora Carnea - a summer rose. This MAY be the rose mentioned in the list of class 8, as the Blush Cluster. This is a double form of Rosa multiflora cathayensis, which was introduced from China to Britain in 1804. This is a very tall rose (14') which can be used as a climber for arbors or pyramids. The buds form in clusters and open into small, flat, double blooms in pale pink that age to white. There is a soft, spicy fragrance. Carnea is Latin for "flesh-colored". Introduced around 1804.