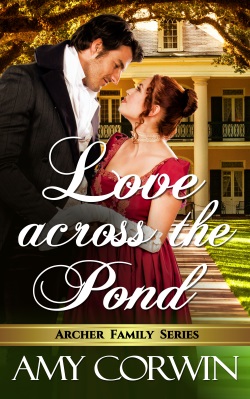 Love Across the Pond
Published: July 2016
Archer Family Regency Series: Book 6
Journeys end in lovers meeting--no matter how much they object!

Edward Archer walks into the den of lioness Charity Stonewright when he is sent to South Carolina to resolve a property dispute for his cousin, the Duchess of Peckham. Astute and devoted to the law, Edward isn't prepared him for dealing with Charity, a strong-willed woman determined to uncover a secret hidden in her family's Charleston mansion. The lost Stonewright fortune is hidden somewhere within the walls of the sprawling mansion. Finding it would end the grinding poverty she's endured, but she has to have time to find it.

Drawn to the attractive woman, Edward is increasingly torn between duty and his growing love for her. But even when he allows her to stay, she stubbornly maintains her distrust of him and keeps her secrets to herself.

The mysteries of the mansion soon threaten to tear Edward and Charity apart before they can learn to listen to their hearts and find the love waiting for them.

Buy Links
---

---