(Originally published as The Bricklayer's Helper by The Wild Rose Press in 2010)
Nominated (as previous published, The Bricklayer's Helper, for Best Historical Romance in 2010 by The Romance Room!
Published: 2015
Archer Family Regency Series: Book 2
A masquerade turns deadly when a murderer discovers one of his victims survived...
After her family perishes in a suspicious fire, Sarah just wants to stay alive. So she hides her identity under a man's clothing and works as a common laborer. But her disguise can't keep her safe when someone from her past discovers she survived the flames. Alone and terrified, Sarah trusts William Trenchard, an inquiry agent with Second Sons, to uncover the arsonist and help her solve the tragic mystery. But while the charming inquiry agent is intelligent, he is far too handsome and distracting, and she soon fears that involving him may be her final~and fatal~mistake.
A wild ride through Regency England heads straight into a decade-old mystery of murder and deceit.
Appearances can truly be deceiving.
Buy Links
Reviews (referring to the original title of the book, The Bricklayer's Helper):
Happily Ever After gives The Bricklayer's Helper five tea cups! and says, "The Bricklayers Helper is a fantastic read, the colorful sights, sounds and characters enhancing the high emotion, drama and heart stopping moments. The delightful twist at the end caught me by surprise and had me first tearing up then literally laughing out loud. Well worth reading." Check out the full review!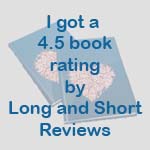 Long and Short Reviews give it 4.5 books and says, "Not only is The Bricklayer's Helper a great romance, but it is also a wonderful blend of the historical and mystery genres. I found myself mulling over the clues when I wasn't reading the book and trying to guess who the mastermind behind the fires might be. Ms. Corwin had me guessing right up until the end and I was genuinely surprised when the culprit was revealed.

I thoroughly enjoyed reading The Bricklayer's Helper. The characters were unique and the romance was sweet. Anyone who likes their romance wrapped in a mystery will definitely want to check out The Bricklayer's Helper. "


---

---

Excerpt

In this scene, William and Sarah are involved in one of their all-to-common tussles over a lost box that may be key to Sarah's survival...

He caught her hands. She twisted, trying to pull them out of his grip.

After all the years of laying bricks she ought to have been stronger, but he seemed to hold her easily, all the while smiling down at her, his blue eyes glinting in the morning sun.

She couldn't read his expression. Her heart fluttered. And for one, breathless moment she stilled in his grip—almost as if waiting for him to press his lips against hers…

As if he would do such a thing. He confused her, and that was a fact.

She twisted, turning her shoulder to him, trying to calm her rapid pulse.

He was free to think whatever he pleased. She had no need to understand what she saw in the depths of his eyes. If he could discover what Major Pickering knew, then Mr. Trenchard could keep his counsel.

"No, Sarah—Miss Sanderson. You know better than that," he replied, his tone mild. "All I want is to keep you alive." A devilish grin pressed a dimple into his left cheek. "And see you in a dress."

She pulled away. "A dress is unlikely, sir. And staying alive may be just as difficult if we don't get that box. Can you…do you think you could get it back for me? If it hasn't been opened—if he hasn't taken the money—I've enough to pay your fee as agreed. But I must get that box!"
Complete Chapter 1
If you want to read more, the complete first chapter is available as a PDF here: A Lady in Hiding First Chapter.