The Illusion of Desire, A Second Sons Inquiry Agency Mystery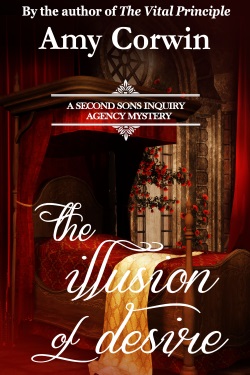 Publication date: February 2014

Available formats: e-book and trade paperback
Second Sons Inquiry Agency Series: Book 4, featuring Captain Nicholas Ainsley and Kathryn Whitethorn-Litton
It's 1821, and someone has stabbed the Earl of Taunton in the back, killing him instantly and setting in motion a complex series of sad events.
Captain Nicholas Ainsley, maimed in the 1809 war in Corunna has accepted a job with the Second Sons Inquiry Agency in an attempt to feel useful and do something that matters. His first case is the investigation of Lord Taunton's death, and he soon wonders if he hasn't gotten more than he bargained for. The earl's death appears as complicated as his life and the list of suspects soon grows apace.
Harry Silsbury, a close friend of Taunton's, blames Kathryn Whitethorn-Litton, a woman widely recognized as Taunton's mistress. Taunton was making plans to marry and intended to get rid of Kathryn, leaving her alone and without any means of support. Kathryn's future looks grim, indeed, when Harry provides enough circumstantial evidence to hang her.
Unfortunately, Kathryn cannot prove where she was the night of Taunton's murder. She was assisting another woman, Mary Dudley, obtain an abortion--an illegal activity and one she cannot disclose.
When Nicholas views the evidence and circumstances surrounding the murder, he realizes that Kathryn may be innocent, but proving it is another matter. He can only hope he finds proof of the real killer's identity before Kathryn hangs for murder.
Buy Links
---

Link to Excerpt