Honeymoon with Death , A Second Sons Inquiry Agency Mystery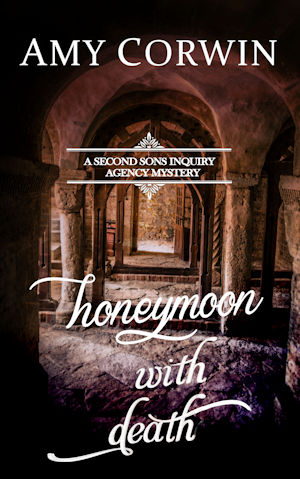 Publication date: February 2015

Available formats: e-book and trade paperback
Second Sons Inquiry Agency Series: Book 5, the third Prudence Barnard and Knighton Gaunt Story
It's 1819, and Prudence Barnard and Knighton Gaunt are married and on their honeymoon when disaster strikes.
After sending their own carriage on to Rome to reserve rooms, Pru and Knighton join six other travelers on an excursion to see the waterfall near Terni, Italy. Unfortunately, their carriage breaks down before they get to Terni and they have a frightening encounter with bandits before they can find safety in the small village of Benerosa.
Their safety is short-lived, however, because during the night, a member of their party is murdered. Mysteriously, the victim was wearing the cloak of one of the other travelers, raising the question of whether she was truly the intended victim or if the owner of the cloak may have been the intended target.
Pru and Knighton's honeymoon turns terrifying when a fellow traveler is found dead and Pru disappears...
Buy Links
---