The Dead Man's View , A Second Sons Inquiry Agency Mystery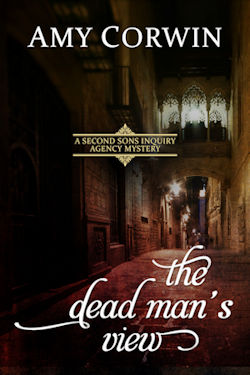 Publication date: October 2013

Available formats: e-book and trade paperback
Second Sons Inquiry Agency Series: Book 3, the second Prudence Barnard and Knighton Gaunt Story
It's 1819, and when Eric Knibbs invites his second cousin, Prudence Barnard, to a house party, sheís pleased to discover that she has a family, even if it is a distant one. Since her fatherís death, Pru has struggled to maintain her existence without the affection and support of relatives. Unfortunately, their reunion is cut short when Eric is found dead, hanging from a noose outside his bedroom window.
The coroner and his jury believe Eric hung himself, but Eric was afraid of heights and could never have committed suicide in such a manner. He wonít even allow the drapes to be opened in his bedroom, so how could he have jumped out of the window with a noose around his neck? After a quick examination of his room, Pru finds too many anomalies and canít help questioning the positioning of the body outside his window, facing the hedge maze in his garden.
Pru doesnít have any answers, but she knows her cousin was well-liked and generous, so she seeks help from her old friend, Knighton Gaunt of the Second Sons Inquiry Agency. Pru soon learns the maze had a dark past and neither Pru nor Knighton are prepared for the strange paths they must follow to discover what deadly truth lays hidden in the shadows at Kennington Manor.
Was the dead manís view of the maze at the heart of the mystery or simply the killerís ruse to suggest suicide?
Buy Links
---