Christmas Spirit, A Regency Christmas Mystery Novella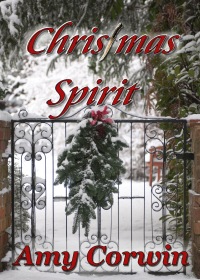 Publication date: Nov 2011
ISBN: 9781419918742
Available formats: e-book
Stranded by a blizzard, Eve and her mother seek shelter at a nearby manor, little knowing a murderer has struck once and lies in wait for the next victim.
A blizzard envelopes the English countryside five days before Christmas, stranding Eve Tomlin and her mother when their carriage shatters a wheel. The women struggle through the snow, forced onward by a wraith-like figure gliding through the trees. Exhausted, they find an apparently abandoned house and stumble inside. They are confronted by Giles Danby, a guest at Folkestone Manor. Danby ruthlessly tells the women they must go.
Their host has just been murdered. A killer is on the loose.
Or a vengeful specter, if they believe Danby's father. A specter Eve may have glimpsed in the woods.
Desperate to solve the mystery and remain alive, they can only hope the Christmas Spirit isn't searching for another victim.
Christmas Spirit is awitty, engaging gothic-style Regency mystery that is sure to please regardless of season!
Buy Links